Summary
How we can deliver safe and authentic vaccines, and allow patients to lead normal lives when they are immune to COVID-19. Secure immunization information systems.
2020-12-18 / William Entriken, Daniel Uribe for GenoBank.io
Across the world, people of all countries are looking forward to successful immunization programs for SARS-CoV-2, the strain of coronavirus that causes COVID-19. In addition to an effective vaccine, matters of logistics will help solve problems such as:
How will patients know the vaccine they receive is authentic, not expired, and was properly handled at the required sub-zero temperatures?
How will health care workers reach out to patients to ensure all follow-on doses are taken?
How will employers, health system operators, and public transit operators verify that only vaccinated people are admitted to certain areas?
These can only be solved by some form of registry system. At present there is no such commercially available or globally recognized national or political subdivision registry. This article looks at some existing registries that may be promoted to nationwide or global acceptance, or how new systems may be developed and recognized altogether.
The United States Centers for Disease Control make clear that CDC does NOT have vaccination record information.
A registry of authentic immunizations and immunized people is the fastest way to get back to a 2019 world. The other option is to wait until the disease has died off.
OWS COVID-19 Vaccination Record Card
The United States federal government initiative for SARS-CoV-2 immunization is lead by Operation Warp Speed (OWS) under the, U.S. Department of Defense, U.S. Department of Health and Human Services, and other government agencies.
OWS has produced a component called the COVID-19 Vaccination Record Card. This is a small paper card which can be given to each patient that receives a vaccine. The text reads:
Please keep this record card, which includes medical information about the vaccines you have received.

Por favor, guarde esta tarjeta de registro, que incluye información médica sobre las vacunas que ha recibido.
And a written record is kept of vaccinations.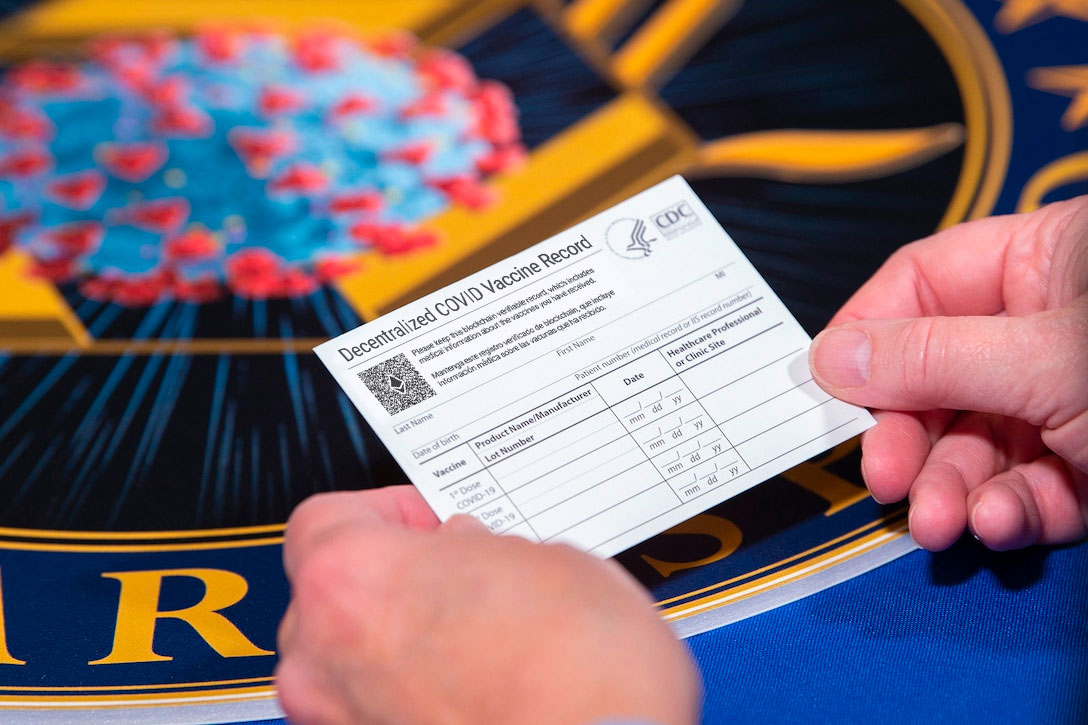 Photo by EJ Hersom, DOD (This card has been modified to show the ethereum blockchain for verification purposes as a "proof of concept")
A Department of Health and Human Services employee holds a sample vaccine card.
This type of card is helpful as a reminder for the patient to complete their second dose of vaccine. But it is not helpful as a way for individuals to prove to their employers and other operators that they have been immunized.
Anybody is able to print these forms, they are publicly available and therefore provide no security.
Army Gen. Gustave Perna, the chief operating officer of Operation Warp Speed recognizes that federal programs "have capability and capacity to send second-dose messages out only if and when it's in collaboration with the states' laws and regulations and policies," in a press briefing December 2, 2020.
US state-level vaccination registries will have hard time finding international validity
In the United States, many states maintain Immunization Information Systems (IIS) for recording the immunization records of residents of that state.
For information on some specific systems, see:
Often, these systems are supported with funding from various federal agencies. And they are implemented independently. As recently as 2019, implementation of an IIS in New Hampshire led to protests against state implementation of the database as reported in the Concord Monitor.
State systems will be challenged to reach nationwide recognition and international recognition because they are disparate, are funded at the whim of federal and state legislatures, and are implemented typically by private contractors. This makes uniform implementations difficult, and any implementation in short time nearly impossible.
Health care in the United States is very much a state-level issue, and so the private sector will be challenged to coordinate on any type of system which allows an immunization administered in New York to be recognized in Oregon.
Local systems have the benefit that states can legislate and regulate how they must work. Blockchain has solved chain-of-custody tracing in the private sector as well as other traditional approaches.
Local pharmacies
Pharmacies are an important part of the healthcare system in the United States.
Operation Warp Speed has already announced partnerships with CVS and Walgreens to administer COVID-19 vaccines when they are available.
Many Americans that have taken a flu vaccine are already used to working with a local pharmacy, and these places also often administer COVID-19 tests.
Pharmacies already provide documentation to patients using their own systems. This includes test results which can be accessed and saved online.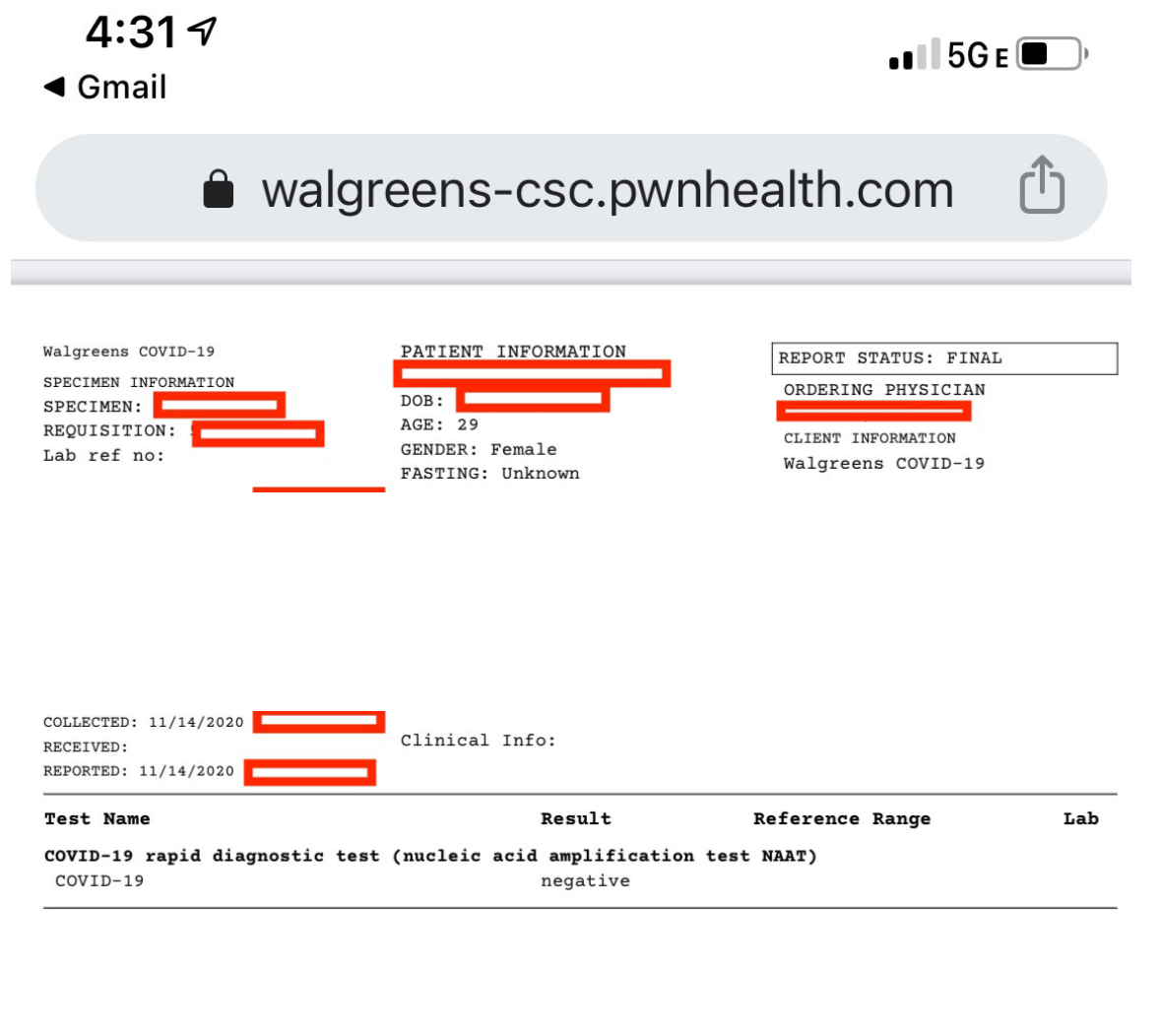 A COVID-19 test result administered at Walgreens and accessed by a mobile phone.
These can be useful for documentation purposes, and residents of all 50 states will recognize the Walgreens brand.
In countries such as Mexico, where smartphones are synonymous with computing, this type of private-section approach is simple and universally accesable for accessing health records.
Pharmaceutical companies
Pharmaceutical companies are no stranger to registries of products.
The U.S. Food and Drug Administration Drug Supply Chain Security Act (DSCSA) is a part of the Drug Quality and Security Act signed into law by President Obama in 2013. This includes a tight timeframe for implementing serialization and traceability of all prescription drugs.
Similarly, in the European Union, the Falsified Medicines Directive passed which has similar implementation requirements.
Pharma companies recognize the value already for serializing and authenticating their products from point of manufacture directly to consumption. Conferences such as Pharma Anti-Counterfeiting & Brand Protection and Chain 76 have focused on drug serialization, cold chain, and proving provenance of drugs.
There may be an opportunity to combine pharmaceuticals' experience with drug serialization with the public's need for authentic vaccinations and records of vaccination.
A public, anonymous registry
A public and decentralized registry could meet the needs of pharmaceutical companies to protect their brands and also for patients to prove they have been immunized.

This could be implemented on a blockchain where each vaccine is tokenized and produced by the drug manufacturer. Blockchain tokens are easy to verify as authentic and are already widely in use for public and private sector applications such as as the United Nations and Microsoft.
When used, the vaccine token can be marked as used, the digital equivalent of ripping off a tamper evident seal. While a physical tamper evident seal does not protect against fake vaccines distributed in vials with copied serial numbers, a digital token can only ever be used once.
When activated, these digital tokens can be registered to a specific patient by name and date of birth. Again, these can be registered on the blockchain publicly while using a hash to protect privacy. This a technique where information is kept private but can be exposed when desired.

The end result is that patients know their drugs are authentic because they can check that activation is happening in real time when they are vaccinated, and they can prove to their employer and other operators that they are the person that was vaccinated. All of this can be accomplished in the private sector by pharmaceutical companies and entirely privately. Of course, all of this information could also be reported into state databases as well.
About GenoBank.io
GenoBank.io has experience implementing blockchain-based, anonymous, and secure systems for tracking medical diagnostic testing.